OVERVIEW
Equity Raise: 27 Duke Street, Brighton  
Projected 20% ROI over 10 months
Executive Summary
TargetFive (T5) Group (Andy Babbayan and Tina Wenham) have been sourcing and developing properties since 2013. We pride ourselves on our agile and bespoke approach to helping our clients and directors find the right investments at the right time, achieving consistent returns. To date, we have completed more than 350 refurbishment and development projects across Sussex. We identify and develop pre-market and off-market opportunities, managing the complete process from purchase through to rental or sale.  On this project, we will be undertaking a Joint Venture with CSEE Investments run by Rachelle Hillier.
A new SPV has been formed for the purpose of this project: 27 DS Limited (Company No 
12868616).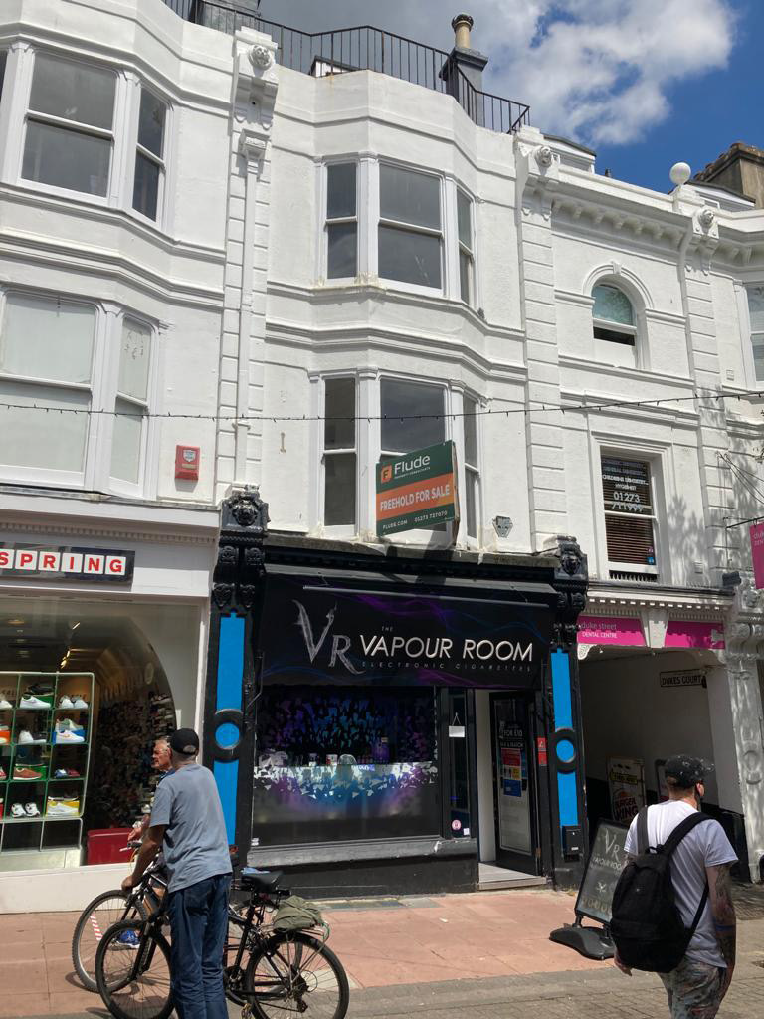 The Location
TargetFive has a unique approach that allows investors to potentially achieve high yields for this market sector but in central locations in thriving cities on the South Coast, rather than in less prosperous declining towns and cities further north.  

27 Duke Street, Brighton
is very well positioned within a historic part of Brighton (The Lanes District), which makes it very attractive to professional sharers.  It is also located not more than 300m from the seafront/beach, close to the historical Brighton Pavilion, and in a pedestrianised area, so would also appeal to the newly resurgent "staycation" market.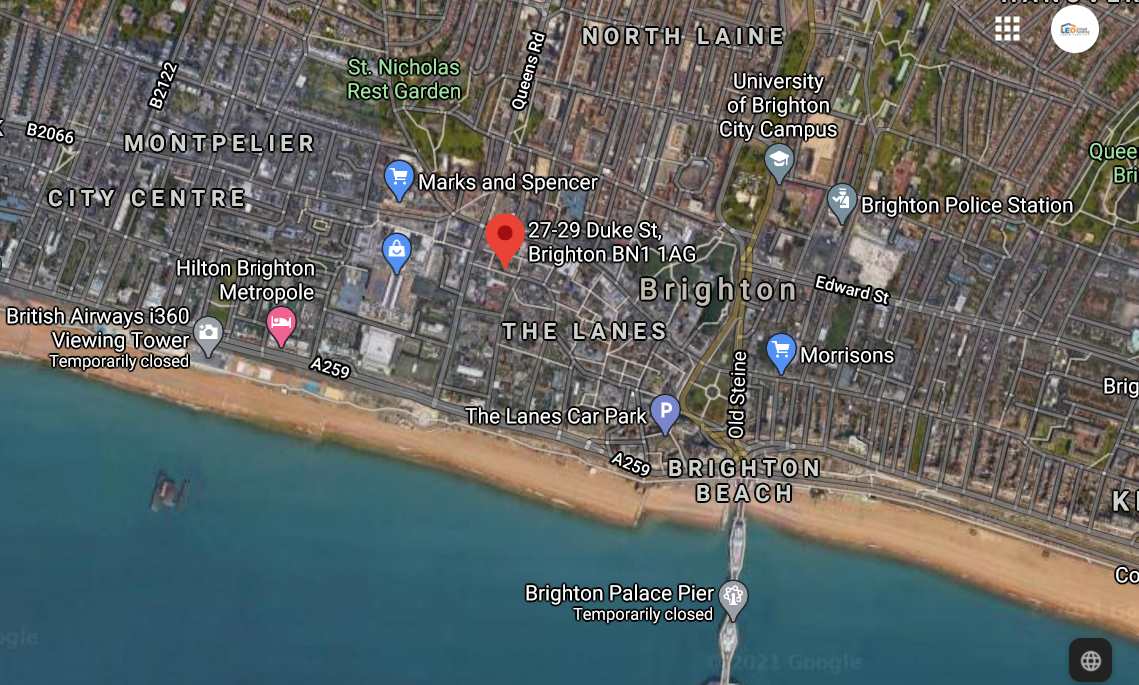 Project Details 
We believe the project is very versatile, due in part to its large footprint and side access.
We have seen a marked shift from low-level specification sharer's accommodation formerly used for student rental, to a more up market luxury, stylish co-living arrangement for professionals and we, therefore plan to convert the large double-width basement into a co-living hub, with work spaces, and a large eating and socialising area, to allow a relaxed cohabitation space for the professionals living in the seven bedrooms we will be creating upstairs.
We intend to retain some commercial space on the Ground Floor front of the building, as we believe Duke Street is very likely to bounce back from the recent downturn and high street closures caused by COVID-19, due to its popularity, the draw of Brighton's historic Lanes and the predicted rebirth of the 'stay-cation'.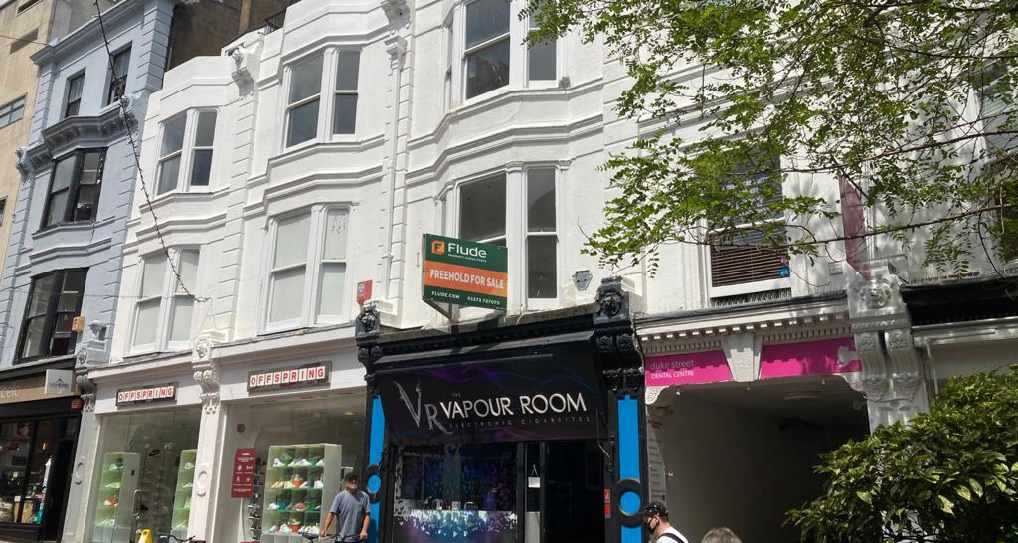 The Opportunity
The £705k purchase of 27 Duke Street has been secured. This represents a £95k discount off the original asking price. The conversion (under Permitted Development) will take approximately 16 weeks from purchase completion, which is scheduled for 12th April 2021. At that point, it is intended that the property will be let on an individual room basis to professional sharers or as holiday let accommodation, with extra potential income from a commercial secure lease.  
The project is offering the investors 20% ROI over 10 months, with the fundraisers seeking to raise £169,000.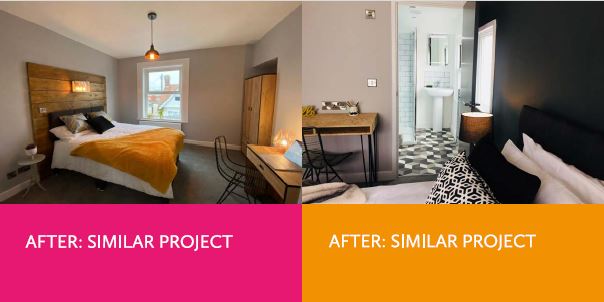 Download Offer Document for full details

Investment in property related assets puts your capital at risk and returns are not guaranteed.  Please read the full risk warning before deciding to invest.
Financials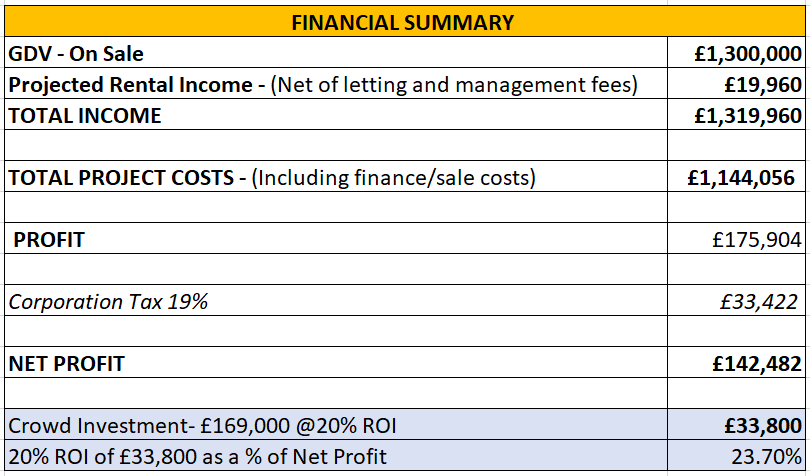 See Equity Offer document for more information.  
Investments and Exits
The fundraisers are seeking to raise £169,000 (Minimum raise £100,000) and are offering 20% over 10 months.
The exit strategies are as follows:
A. Sell to Investor for Commercial valuation of £1,300,000 via HMO/Investment broker.
B. Refinance at Commercial valuation of £1,300,000.